| 
pro-RENAL | with beef and potato
Complete diet food for dogs with kidney problems & renal insufficiency
Availability
available, delivery time 1 - 3 days
Order quantity in Tray(s)
Animal species
Dog
Recommended age
Adult animals
Breed recommendation
All breeds
Type of feed
Wet food
Feed category
Complete dietary feed
Packing unit
6x400 g can
pro-RENAL
is a complete dietary feed for adult dogs to support kidney function
in chronic renal insufficiency
or to
reduce urate urinary stone formation
.
When should you feed your dog pro-RENAL?
if they suffer from acute or chronic renal insufficiency or other kidney problems
if urinary stones (especially urate) have been detected in them (after consultation with your veterinarian e.g. in struvite stone suitable)
in case of a need for a purine-poor diet (e.g. for leishmaniasis)
The advantages of our special feed pro-RENAL:
reduced protein and phosphorus content
high energy content to compensate for nutrient losses via kidneys, as well as insufficient energy intake due to decreased appetite
simple and understandable recipe without frills
high-quality and highly-digestible protein sources
with rosehip: can have a gentle diuretic effect and strengthen the immune system
with peppermint leaves: which can counteract nausea
with salmon oil: contains a high proportion of omega-3 fatty acids (protects cells and improves blood circulation)
suitable complete food
real meat, offal and vegetables, no hydrolysates, powders or other complicated or vague ingredients
only meat from native animal species (no exotic meat)
personally developed by your veterinarian und feed expert Dr. med. vet. Gregor Berg
all our wet food is made in Germany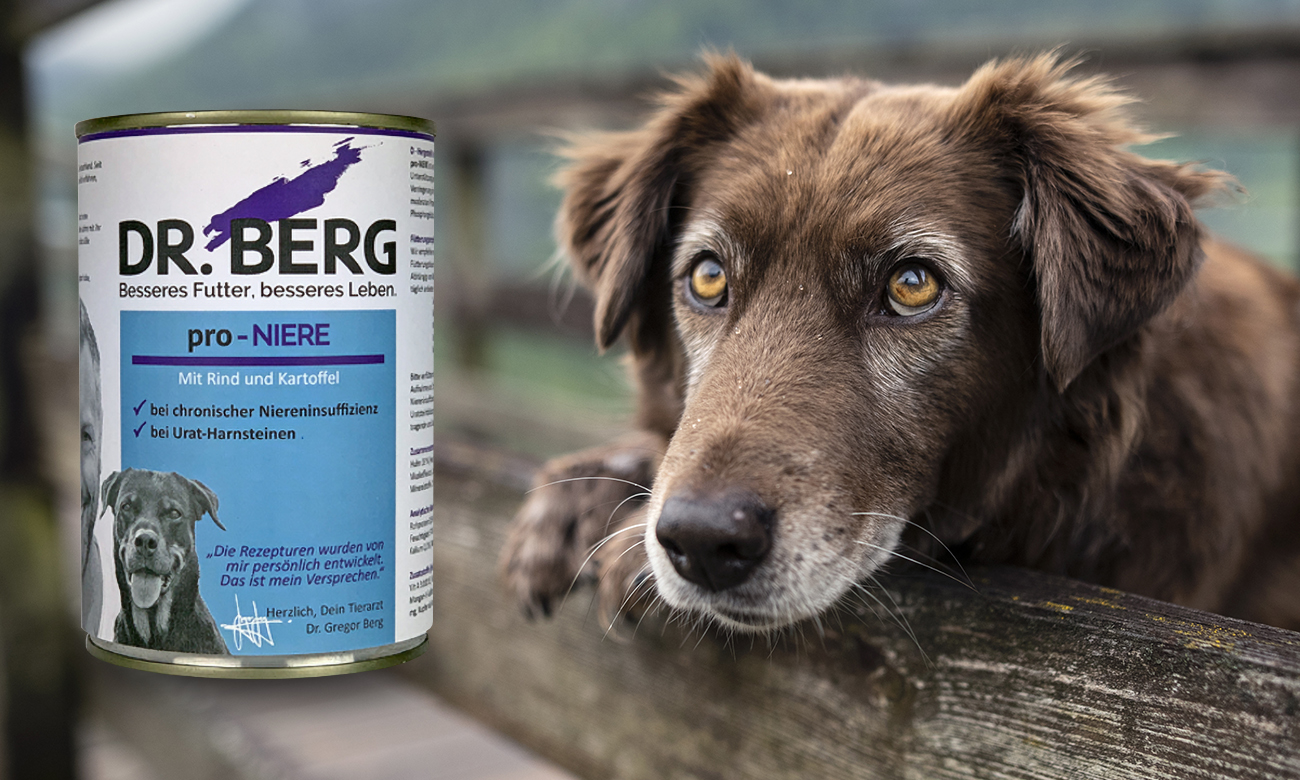 Composition, Analytical Constituents and Supplements
Composition:
chicken 33% (heart, muscle meat, liver, gizzard, throat), beef 17%,17% (heart, muscle meat, lungs, liver), potato 6%, carrot 5%, rosehip 1 %, minerals 1 %, peppermint leaves 0.1 %, salmon oil 0.1 %.
Analytical constituents:
raw protein 6.5 %, raw fat 10 %, raw fibre 1 %, raw ash 2.8%, moisture 74%, calcium 0.2 %, phosphorus 0.12%, sodium 0.06 %, potassium 0.3 %, magnesium 0.01 %.
Mineral substances and supplements (per kg):
Vit A 3,000 IU, Vit D3 200 IU, zinc as zinc sulfate - monohydrate 25 mg, manganese as manganese II sulfate - monohydrate 1.4 mg, iodine as calcium iodate - anhydrous 0.75 mg, copper as copper II sulfate - pentahydrate 2 mg.
Feeding recommendation
Depending on age and activity of your dog offer the following quantity pro-RENAL​ daily:
weight up to 5 kg: up to 200 g
weight 5-10 kg: 200-330 g
weight 10-25 kg: 330-670 g
weight 25-40 kg: 670-950 g
weight 40-60 kg: from 950 g
Please feed the food room temperature and in small portions and offers fresh drinking water for easy digestion.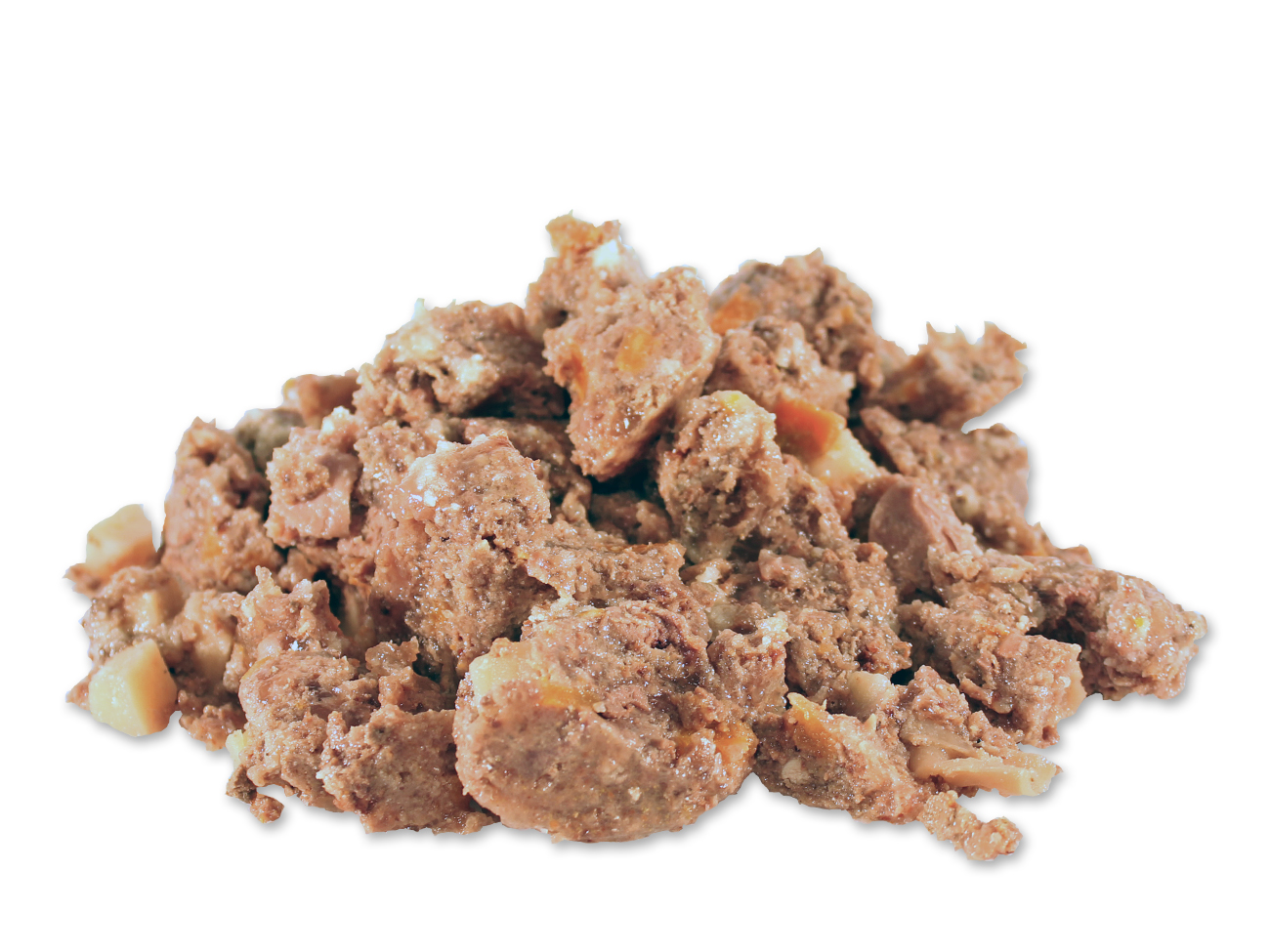 Recommended duration of use:
In chronic renal insufficiency initially up to 6 months. To reduce urate-stone formation up to 6 months. We recommend that you seek the advice of your veterinarian before feeding or extending the feeding period.
Contraindications:
Not suitable for pregnant and lactating dogs or puppies.
Storage instructions:
Please store the food in a cool and closed place as we do not use preservatives.
Let us do something for the environment together:

In order to reduce packaging and filling material, we have various carton sizes in stock, in which our products fit so that we use minimal additional filler material. We have these boxes for dog wet food in the sizes 1 x 6 cans, 3 x 6 cans, 7 x 6 cans or 10 x 6 cans. For wet cat food, twice the amounts apply, as the doses are only half as large. If you order wet food from us in these quantities, then we can reduce unnecessary packaging material and keep your package secured for shipping. This significantly reduces paper consumption. 😊

This is a small step, and many small steps make a difference. We would appreciate if you would think about this the next time you shop.

A big thanks from us.


Your team of Dr. Berg Pet Food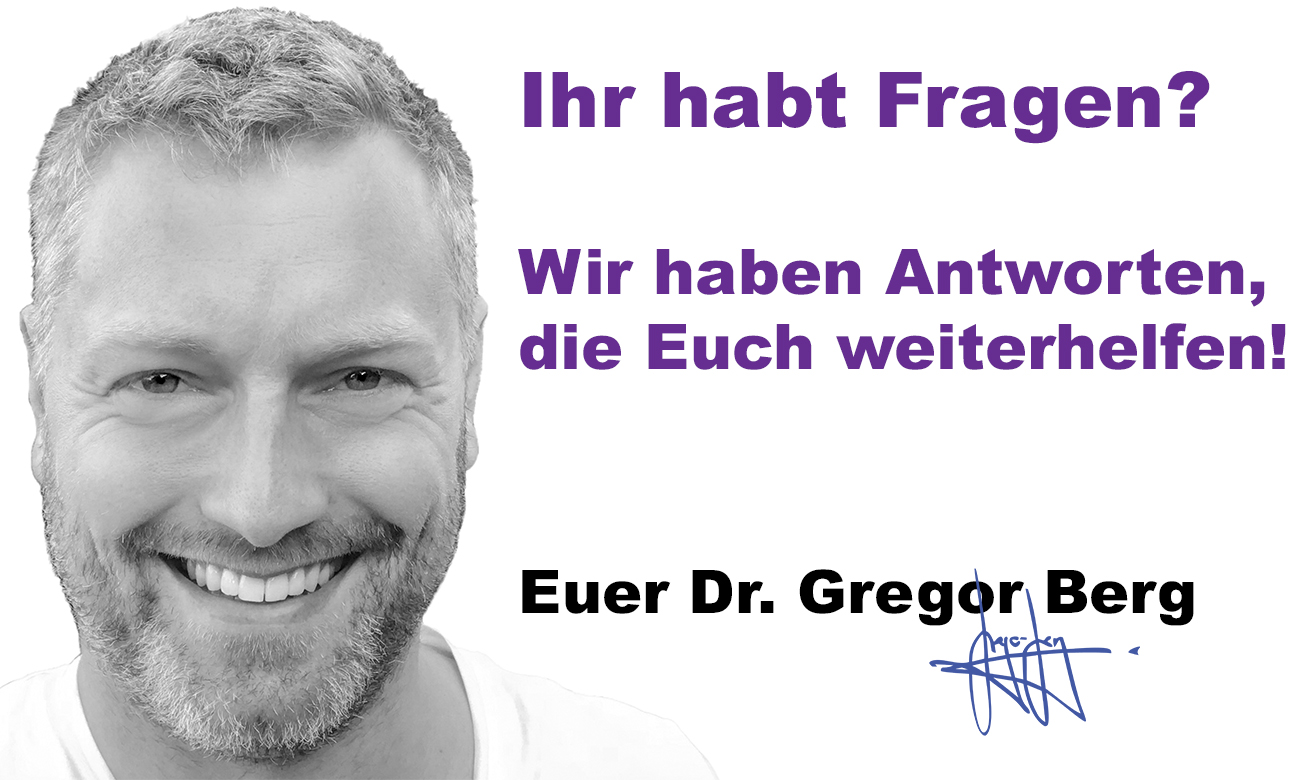 Call us at +49-9971-8984213 or email us info@dr-berg-tiernahrung.de. Instead of receiving call center answers or standard e-mails, you will feel understood and cared for by us. We promise you that!
Our satisfied customers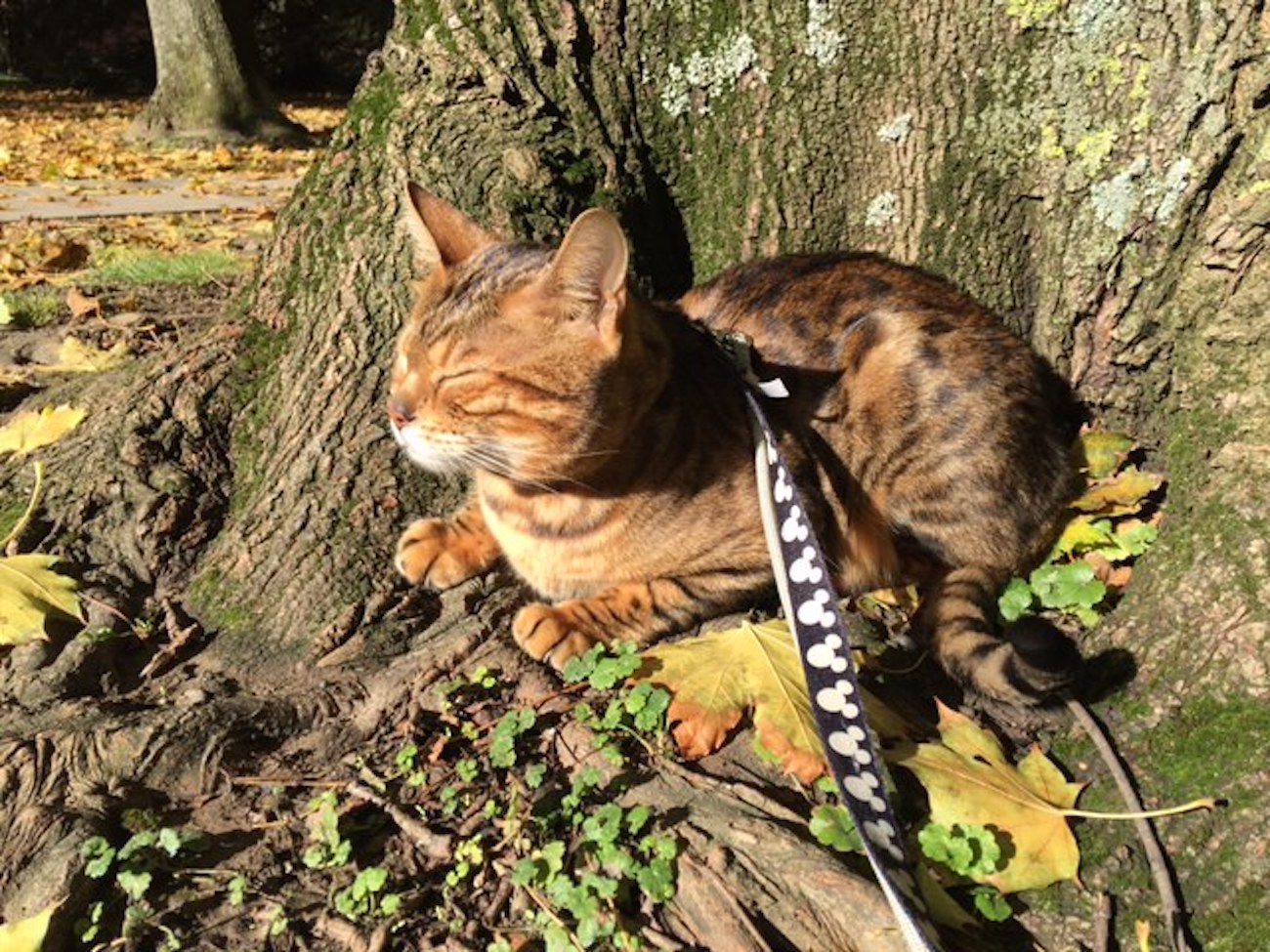 Doris with cat Koibito
Dear Dr. Berg Team,
this is my cat
Koibito
. Your food is the only kidney food that he
likes and tolerates
. I was and am so
happy
that in my internet research I came across the
kidney food pro-RENAL
from Dr. Berg. Thank you!
Best regards,
Doris with Koibito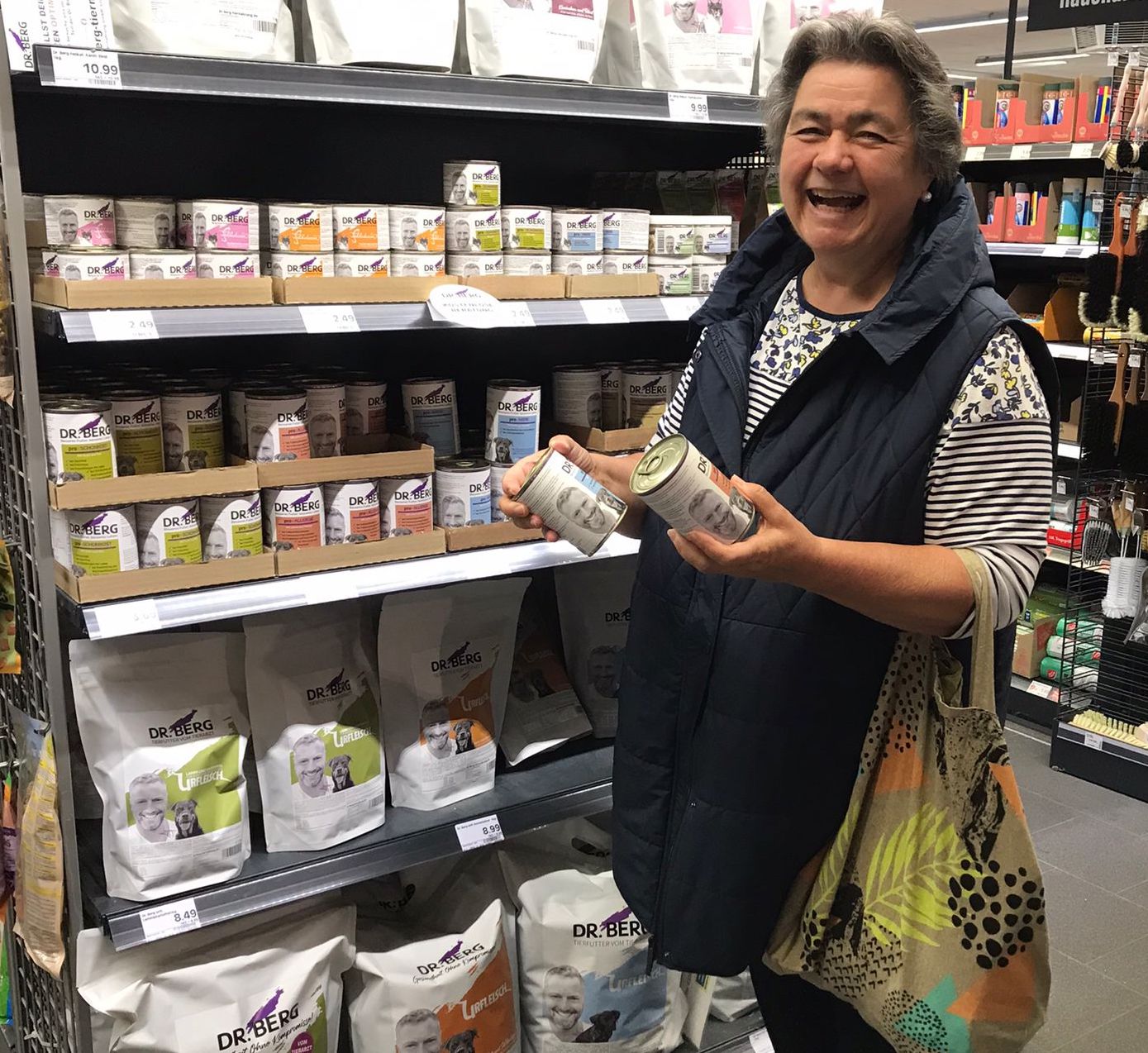 Ms. Bieringer with Havanese dog Flocki
Dear Dr. Berg Team,
imagine, yesterday I was "caught" by your very, very nice sales representative, just as I was buying Dr. Berg dog food at EDEKA in Pförring. We talked about your different, very well tolerated food offers and we took photos. :-)
My Havanese dog Flocki has changed since switching to Dr. Berg dog food, significantly in a positive way in terms of health. Flocki now looks forward to his food (it doesn't smell or stink!), he has better digestion, his coat is healthy and shiny, he seems livelier and he no longer has bad breath!
In short, I'm glad about Dr. Berg of pet food!
Best regards,
Barbara Bieringer with Flocki