| 
URFLEISCH Puppy | with chicken and potato
Grain-free, hypoallergenic complete food for puppies and young dogs with plenty of fresh meat
1 kg = 7,99 € / kg
5 kg = 6,40 € / kg
10 kg = 5,40 € / kg
Special offer:
Availability
available, delivery time 1 - 3 days
Animal species
Dog
Recommended age
Puppies and young dogs
Breed recommendation
All breeds
Type of feed
Dry food
Feed category
Complete feed
Packing unit
1, 5 & 10 kg bag
Our
URFLEISCH chicken and potato
contains all the nutrients and excellent ingredients so that your
puppy or young dog
gets everything he needs in the long run with this
complete food
.
When should you feed your dog our URFLEISCH chicken and potato for puppies and young dogs?
if you have a puppy and young dog that needs to be fed with high-quality dry food
if your dog is pregnant or nursing
if you have a very active dog that has an increased protein requirement
if you have a working dog that has an increased protein requirement
if your dog is grown and healthy but prefers small croquettes
if you want to have a high-quality treat or a supplement to the home cooked meals
if you are a BARFer who wants to take a break
if your dog is an allergy sufferer and is not allergic to either the protein or carbohydrate source
if your dog suffers from intolerances and you want food with a simple recipe
if your dog is nutritionally sensitive
if you just want to live your life and don't want to worry or stress about feeding your cat the right food.
The advantages of our URFLEISCH chicken and potato:
simple and understandable recipe without frills
only a high-quality and highly digestible protein source (monoprotein, single-protein)
only one carbohydrate source
very high in fresh meat
easily digestible, also suitable for sensitive dogs
suitable complete food for puppies and young dogs
real meat, offal and vegetables, no hydrolysates, powders or other complicated and vague ingredients
only meat from native animal species (no exotic meat)
personally developed by your veterinarian and feed expert Dr. med. vet. Gregor Berg
all our dry food is made in Austria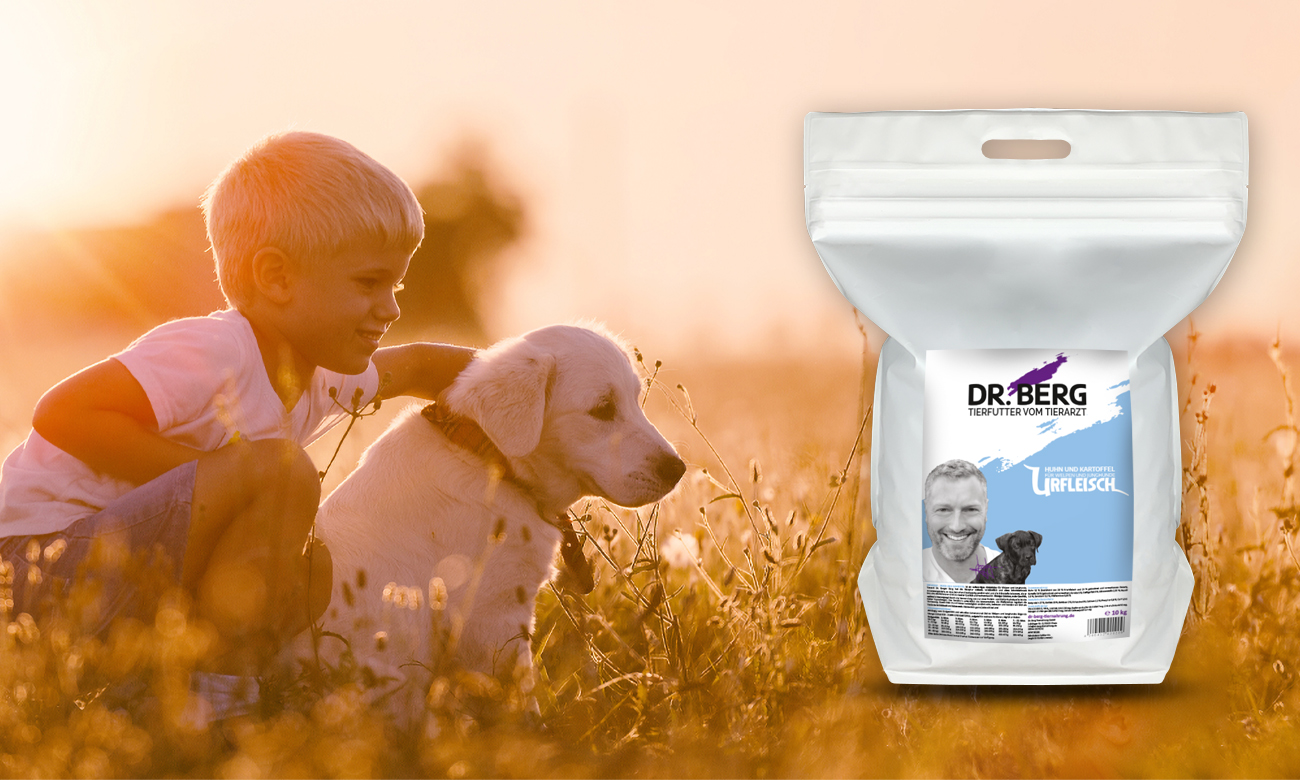 Composition, Analytical Constituents and Supplements
Composition:
chicken 52 % (of which 28 % fresh meat and 24 % dried and ground meat), potato 34 % (dried and ground), carrot 5 %, poultry fat 5 %, minerals 2.45 %, rapeseed oil 1.5 %, sea buckthorn 0.1 %, peppermint 0.05 %.
Analytical constituents:
raw protein 27 %, raw fat 15 %, raw fibre 2 %, raw ash 6 %, calcium 1.2 %, phosphorus 0.8 %, Ca-P ratio: 1.5:1, moisture 8 %.
Mineral substances and supplements (per kg):
Vit A 15,000 IU, Vit D3 1,050 IU, Vit E 150 mg, copper as copper (II) sulfate 5.4 mg, zinc as zinc oxide 72 mg, iodine as calcium iodate 1.9 mg.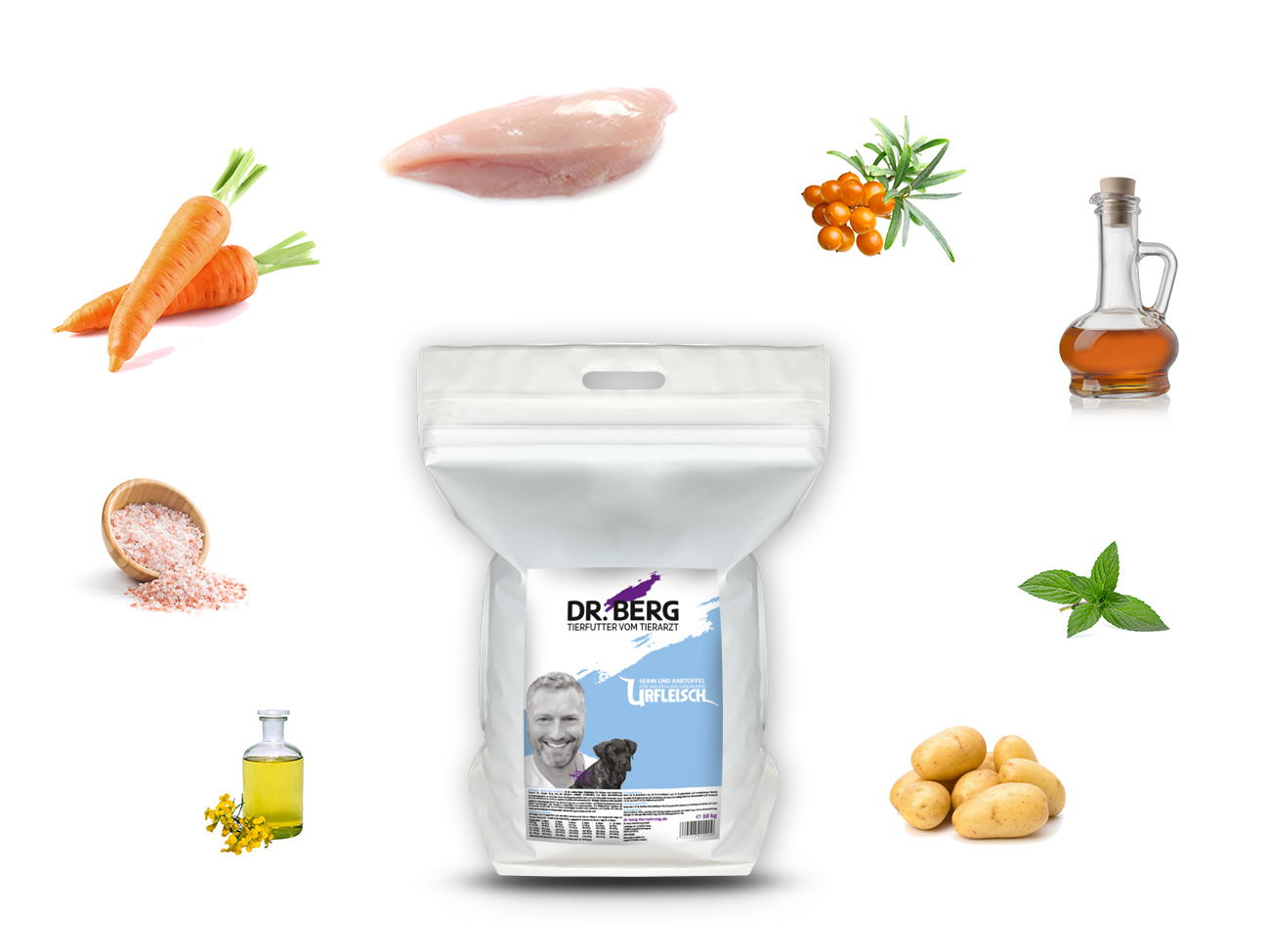 Feeding recommendation
Depending on the weight and current age of your puppy and young dog offer the following amount of URFLEISCH chicken and potato divided into several portions daily:
Dwarf breed (up to 5 kg):
2nd month: up to 50 g
3rd month: up to 60 g
4th month: up to 75 g
5th month: up to 90 g
6th month: up to 105 g
7th-12th month: up to 95 g
Small breed (5-10 kg):
2nd month: 50-85 g
3rd month: 60-100 g
4th month: 75-115 g
5th month: 90-140 g
6th month: 105-165 g
7th-12th month: 95-150 g
Medium breed (10-25 kg):
2nd month: 85-210 g
3rd month: 100-225 g
4th month: 115-240 g
5th month: 140-260 g
6th month: 165-280 g
7th-12th month: 150-270 g
Large breed (25-40 kg):
2nd month: 210-300 g
3rd month: 225-320 g
4th month: 240-340 g
5th month: 260-370 g
6th month: 280-400 g
7th-12th month: 270-385 g
Giant breed (40-60 kg):
2nd month: 300-360 g
3rd month: 320-385 g
4th month: 340-410 g
5th month: 370-440 g
6th month: 400-470 g
7th-12th month: 385-465 g
Please feed the food room temperature and always offer your dog fresh drinking water for easy digestion.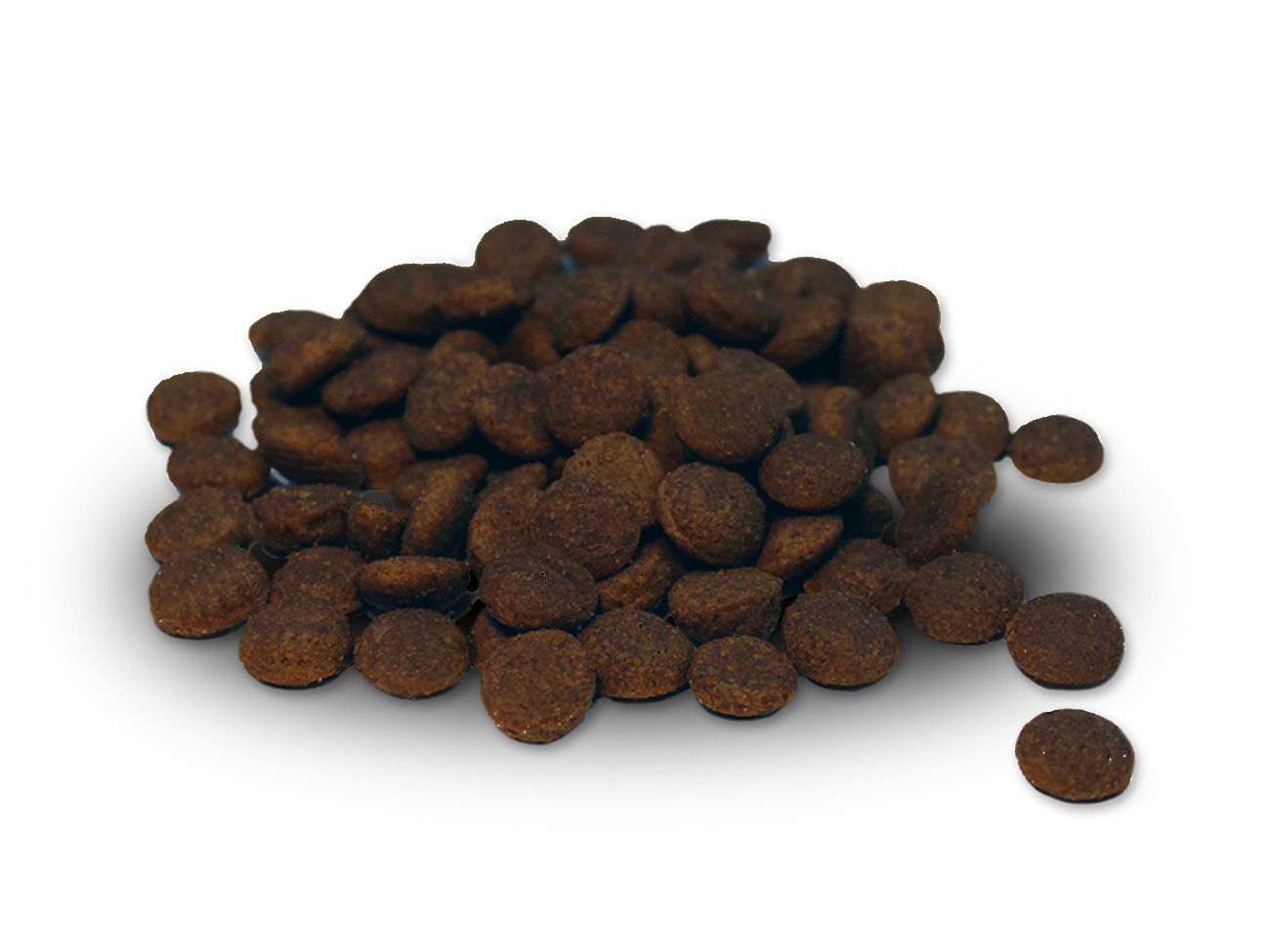 Storage Instructions:
Please store the food in a cool and enclosed place, as we do not use preservatives.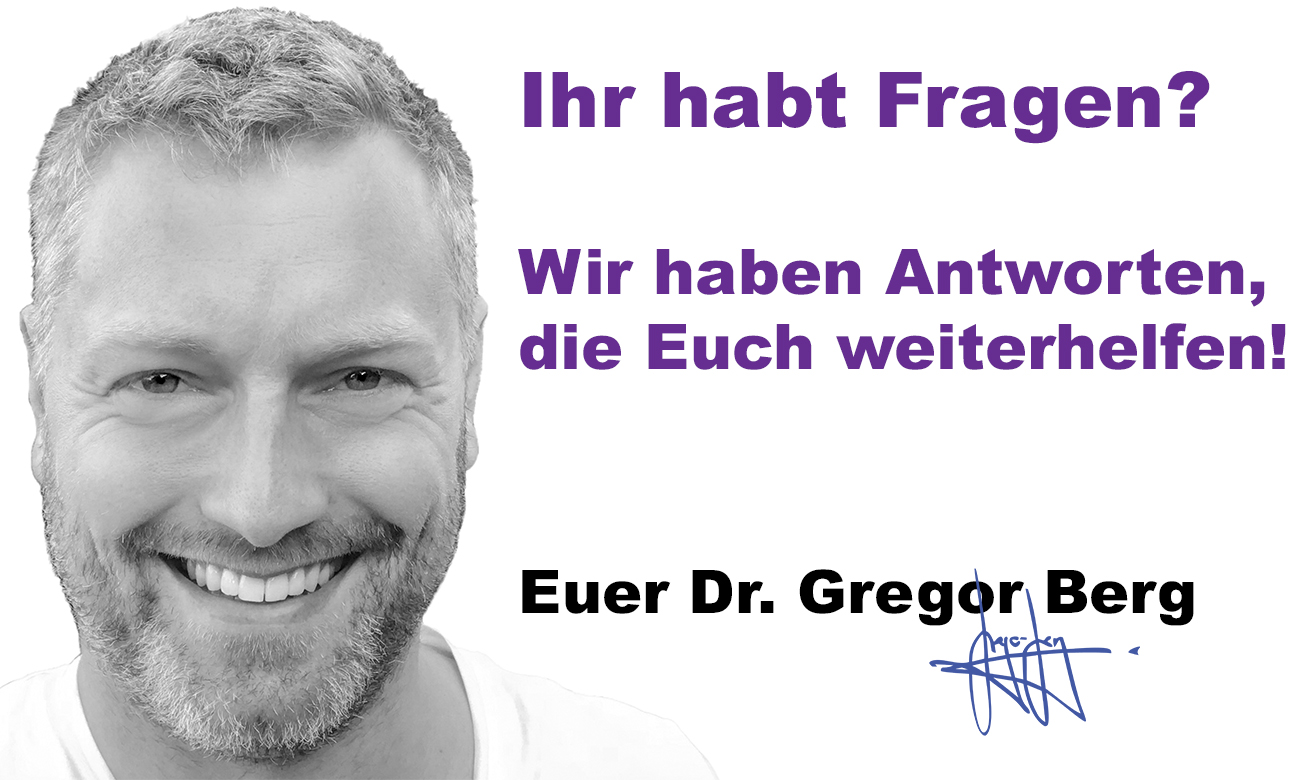 Call us at +49-9971-8984213 or email us info@dr-berg-tiernahrung.de. Instead of receiving call center answers or standard e-mails, you will feel understood and cared for by us. We promise you that!
Our satisfied customers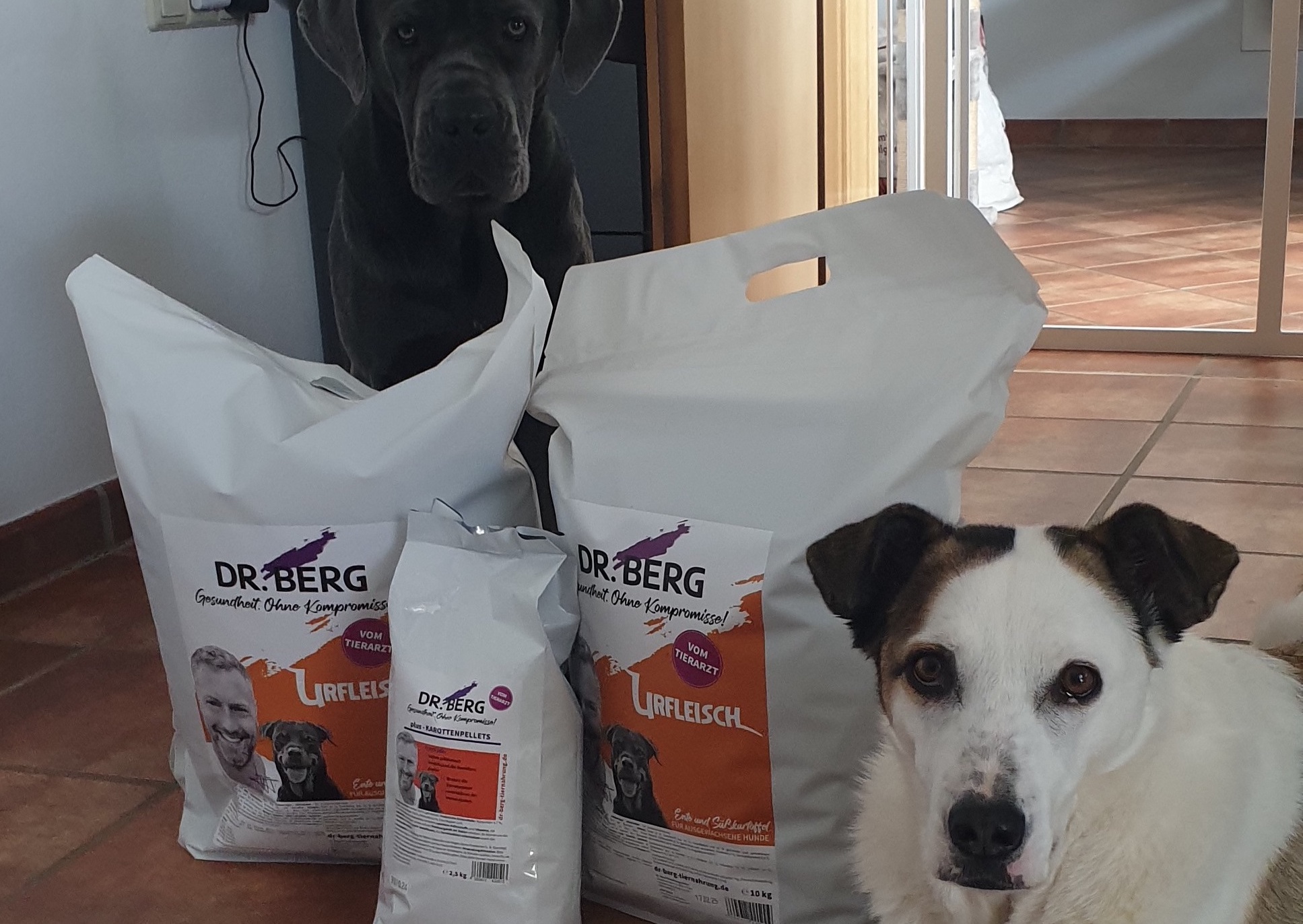 Sandra with Ishani und Kimmi
Hello everyone,
And thank you for the great advice - Dr. Berg has lifted a great burden from my shoulders. I'm glad that finally someone speaks plain language and clears up all these prejudices and false claims.
Best regards,
Sandra with Ishani and Kimmi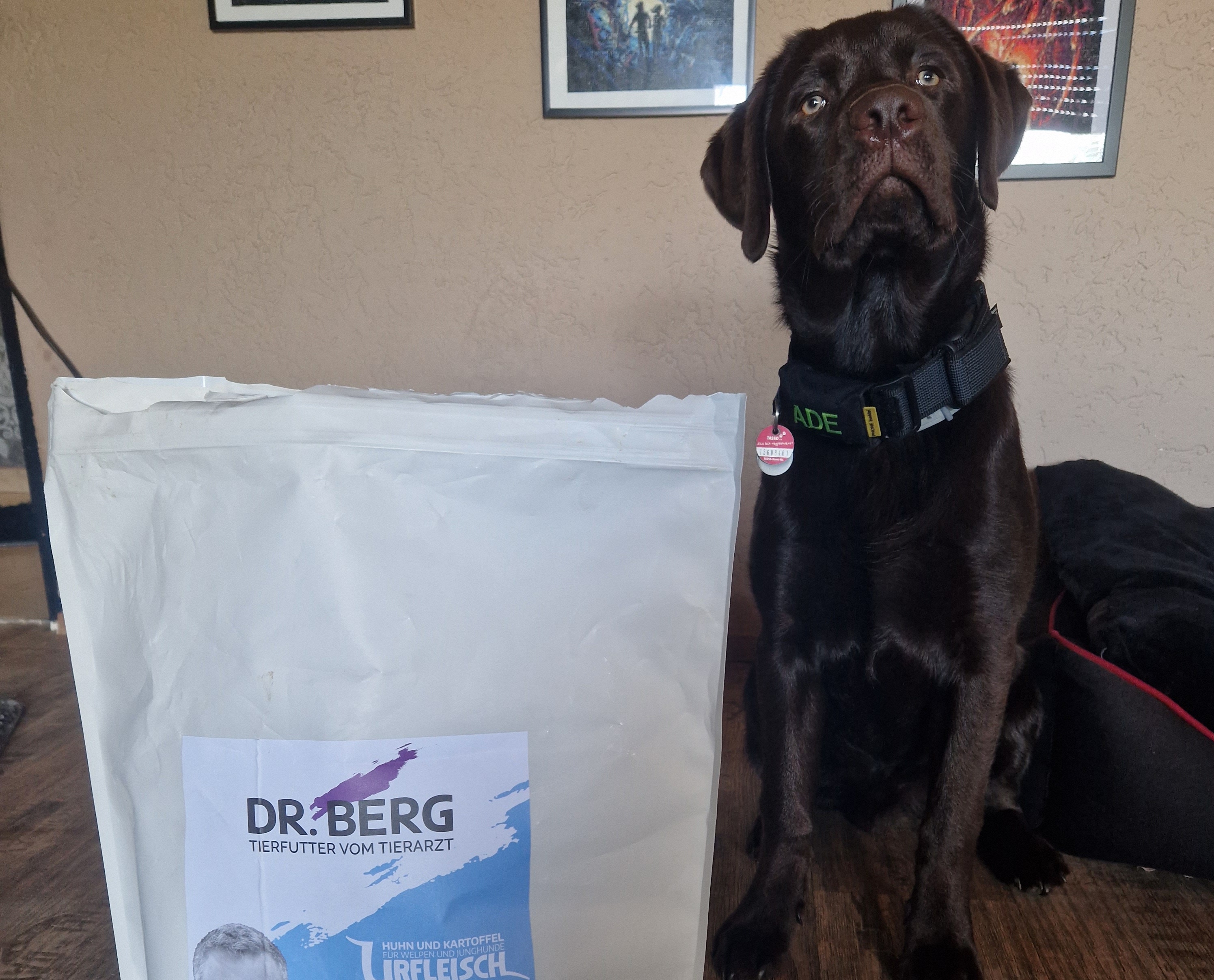 Susanne with Labrador Ade
This is
Ade
(7.5 months young), a chocolate brown
Labrador
and a
very satisfied
customer of Dr. Berg!
At the moment he is still getting the
URFLEISCH chicken & potato for young dogs
. Ade is often admired for his
shiny coat and good physique
.
Susanne & Ade