| 
URFLEISCH Adult | with duck and sweet potato
Grain-free, hypoallergenic complete food for adult dogs with lots of fresh meat
1 kg = 8,99 € / kg
5 kg = 7,60 € / kg
10 kg = 6,50 € / kg
Special offer:
Availability
available, delivery time 1 - 3 days
Animal species
Dog
Recommended age
Adult animals
Breed recommendation
All breeds
Type of feed
Dry food
Feed category
Complete feed
Packing unit
1, 5 & 10 kg bag
Our URFLEISCH duck and sweet potato contains all the nutrients and excellent ingredients so that your adult dog with this complete food gets everything they need in the long run.
When should you feed your dog our URFLEISCH duck and sweet potato for adult dogs?
if you have a dog that needs to be fed with high-quality dry food
if you want to have a high-quality treat or a supplement to the home cooked meals
if you are a BARFer who wants to take a break
if your dog is grown and healthy
if your dog is an allergy sufferer and is not allergic to either the protein or carbohydrate source
if your dog suffers from intolerances and you want food with a simple recipe
if your dog is nutritionally sensitive
if you just want to live your life and don't want to worry or stress about feeding your dog the right food.
The advantages of our URFLEISCH duck and sweet potato:
simple and understandable recipe without frills
only a high-quality and highly digestible protein source (monoprotein, single-protein)
only one carbohydrate source
very high in fresh meat
easily digestible, also suitable for sensitive dogs
suitable complete food for adult dogs
real meat, offal and vegetables, no hydrolysates, powders or other complicated and vague ingredients
only meat from native animal species (no exotic meat)
personally developed by your veterinarian and feed expert Dr. med. vet. Gregor Berg
all our dry food is made in Austria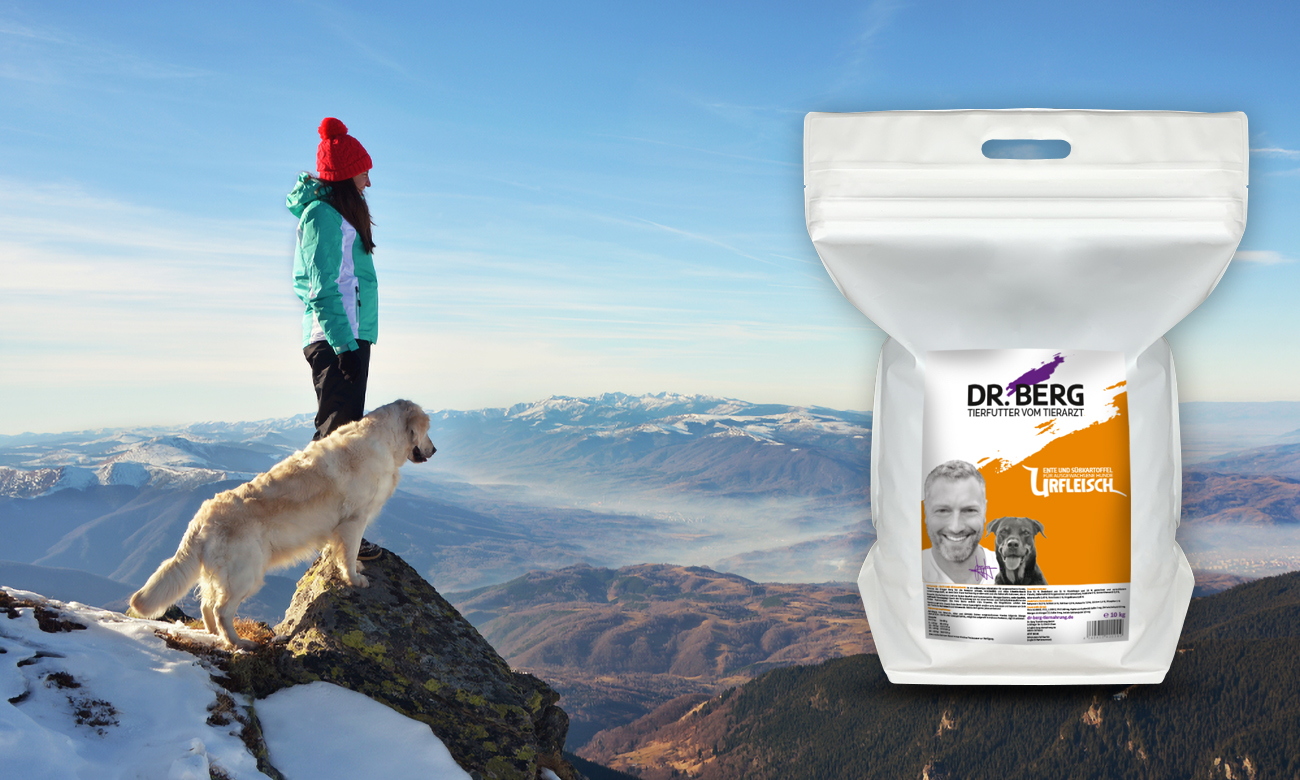 Composition, Analytical Constituents and Supplements
Composition:
duck 51 % (of which 31 % fresh meat and 20 % dried and ground meat), sweet potato 35 % (dried and ground), parsnip 5 %, sunflower oil 5.5 %, minerals 2.45 %, beetroot 1 %, marigold 0.05 %.
Analytical constituents:
raw protein 24.5 %, raw fat 14 %, raw fibre 2.5 %, raw ash 7.5 %, calcium 1.4 %, phosphorus 1 %, moisture 8 %.
Minerals and supplements (per kg):
Vit A 16,000 IU, Vit D3 1,200 IU, Vit E 160 mg, copper as copper (II) sulfate 7 mg, zinc as zinc oxide 100 mg, iodine as calcium iodate 2.5 mg.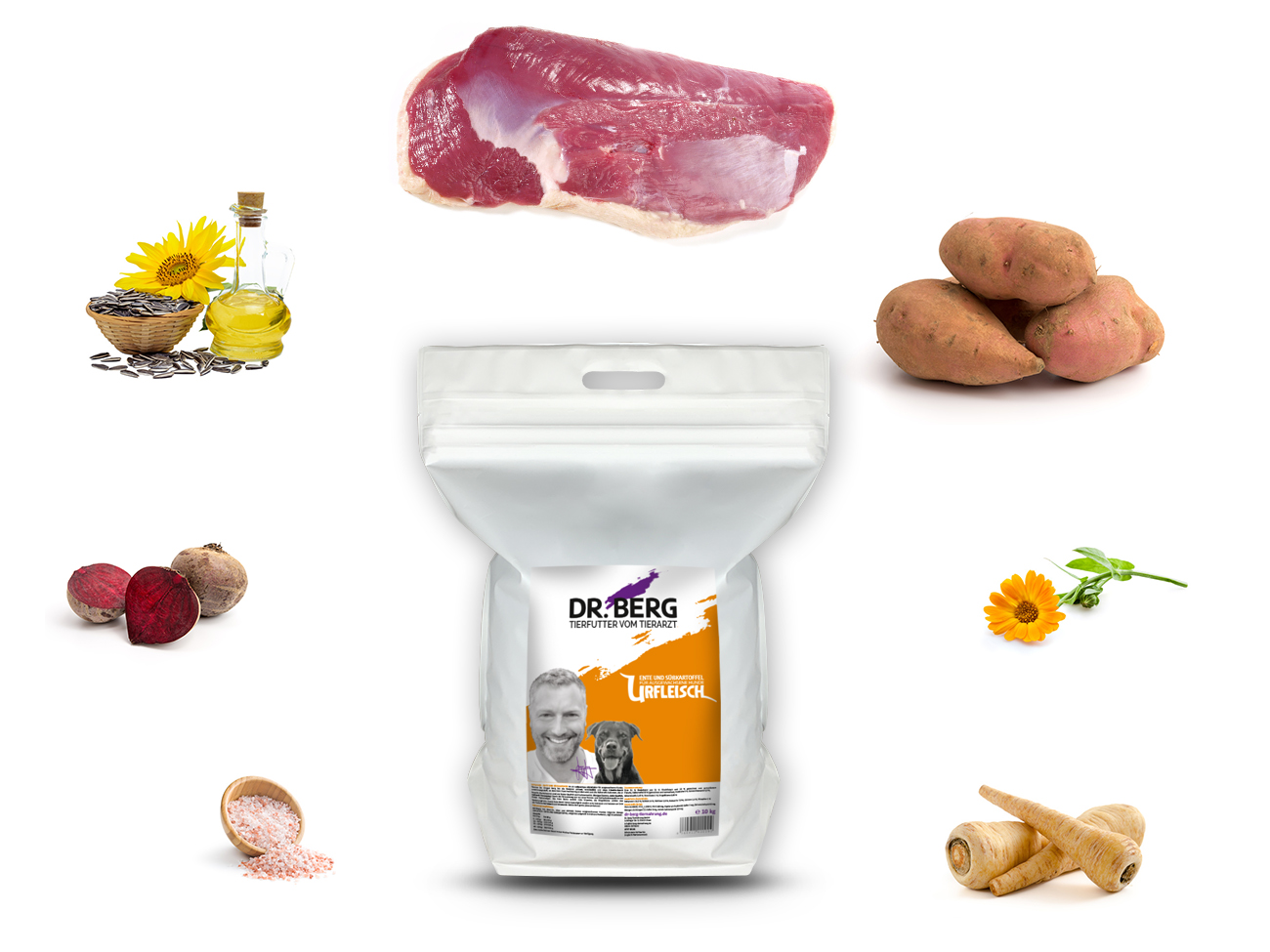 Feeding recommendation
Depending on the weight, age and activity of your dog offer the following amount
URFLEISCH Adult duck and sweet potato
divided into several servings daily:
weight up to 5 kg: up to 80 g
weight 5-10 kg: 80-135 g
weight 10-25 kg: 135-270 g
weight 25-40 kg: 270-385 g
weight 40-60 kg: 385-520 g
Please serve the food room temperature and always offer your dog fresh drinking water for easy digestion.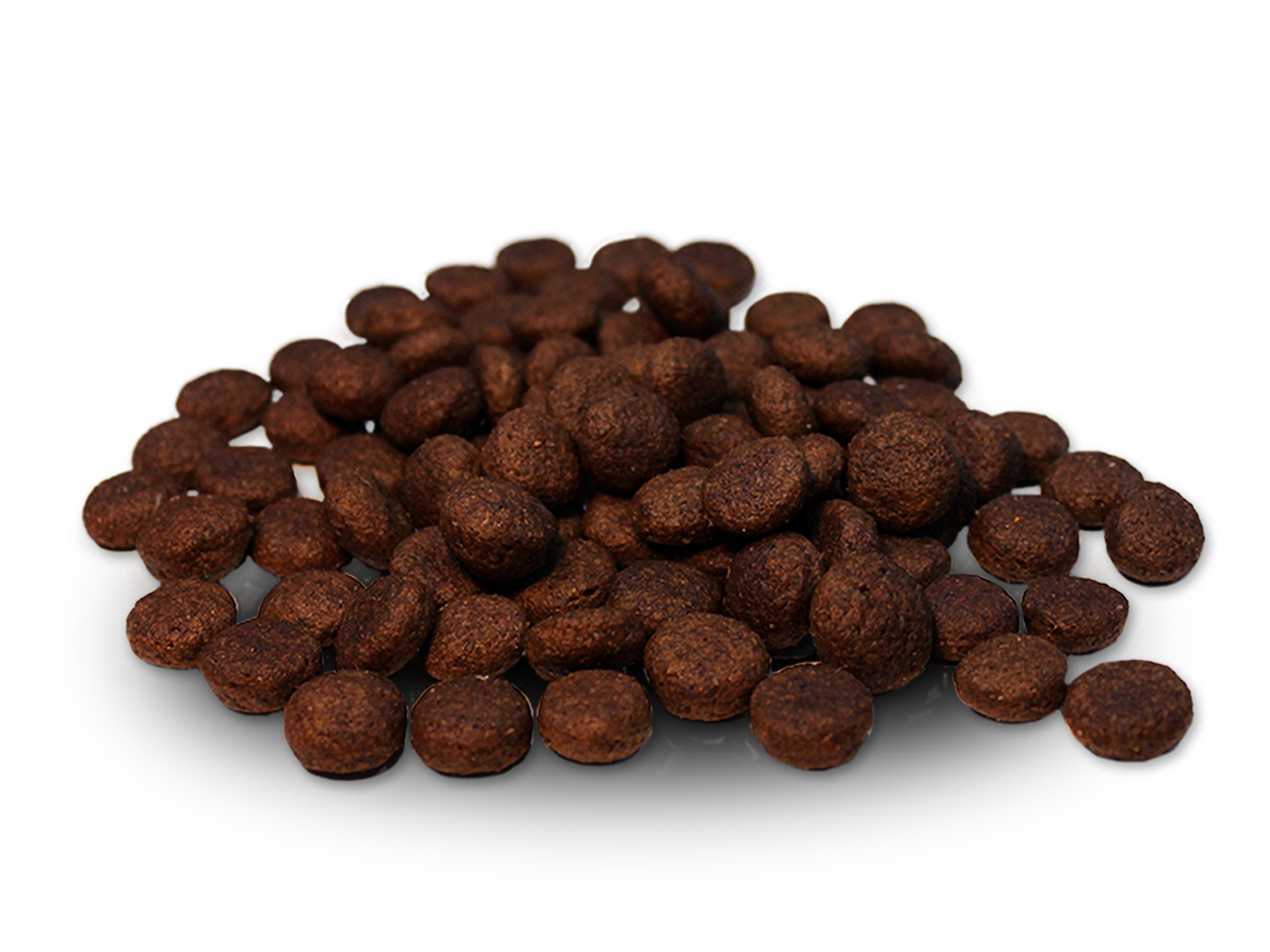 Storage Instructions:
Please store the food in a cool and enclosed place as we do not use preservatives.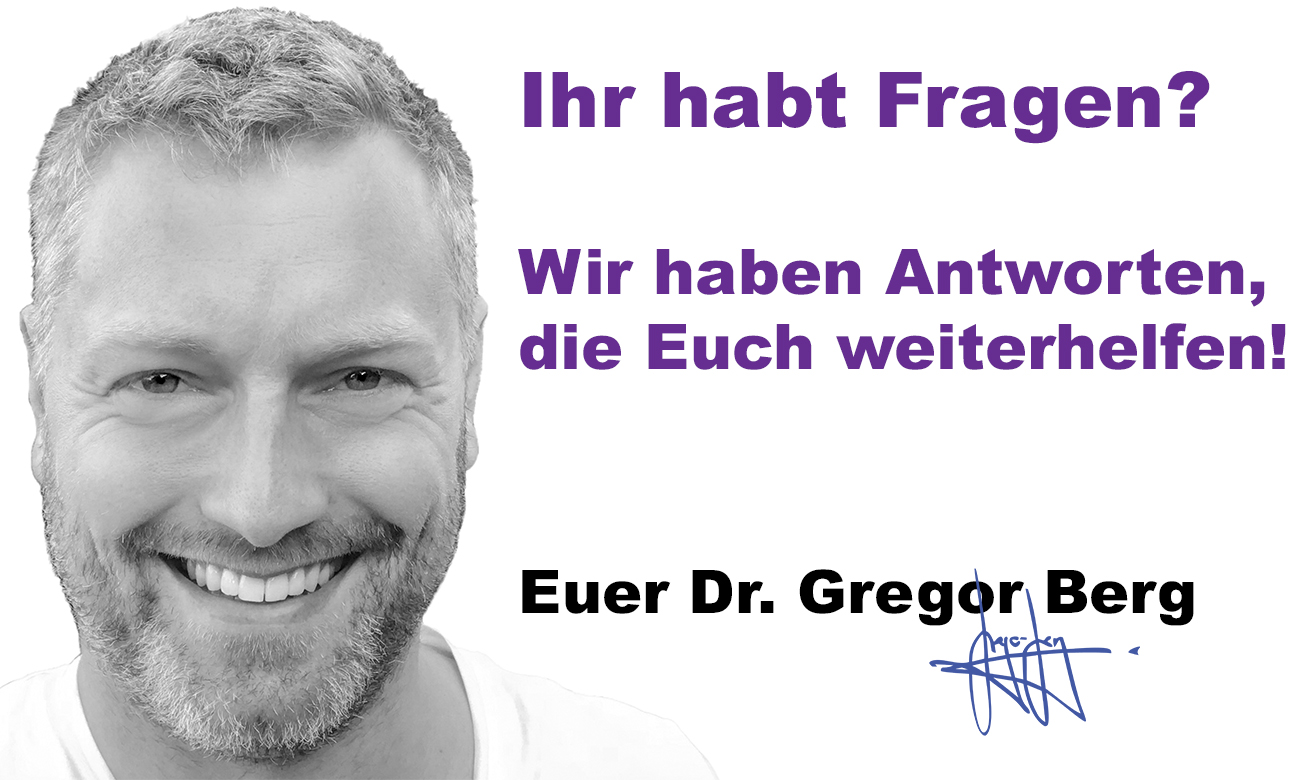 Call us at +49-9944-3076142 or send us an e-mail to info@dr-berg-tiernahrung.de. Instead of receiving call center answers or standard e-mails, you will feel understood and cared for with us.That's our promise to you!
Our satisfied customers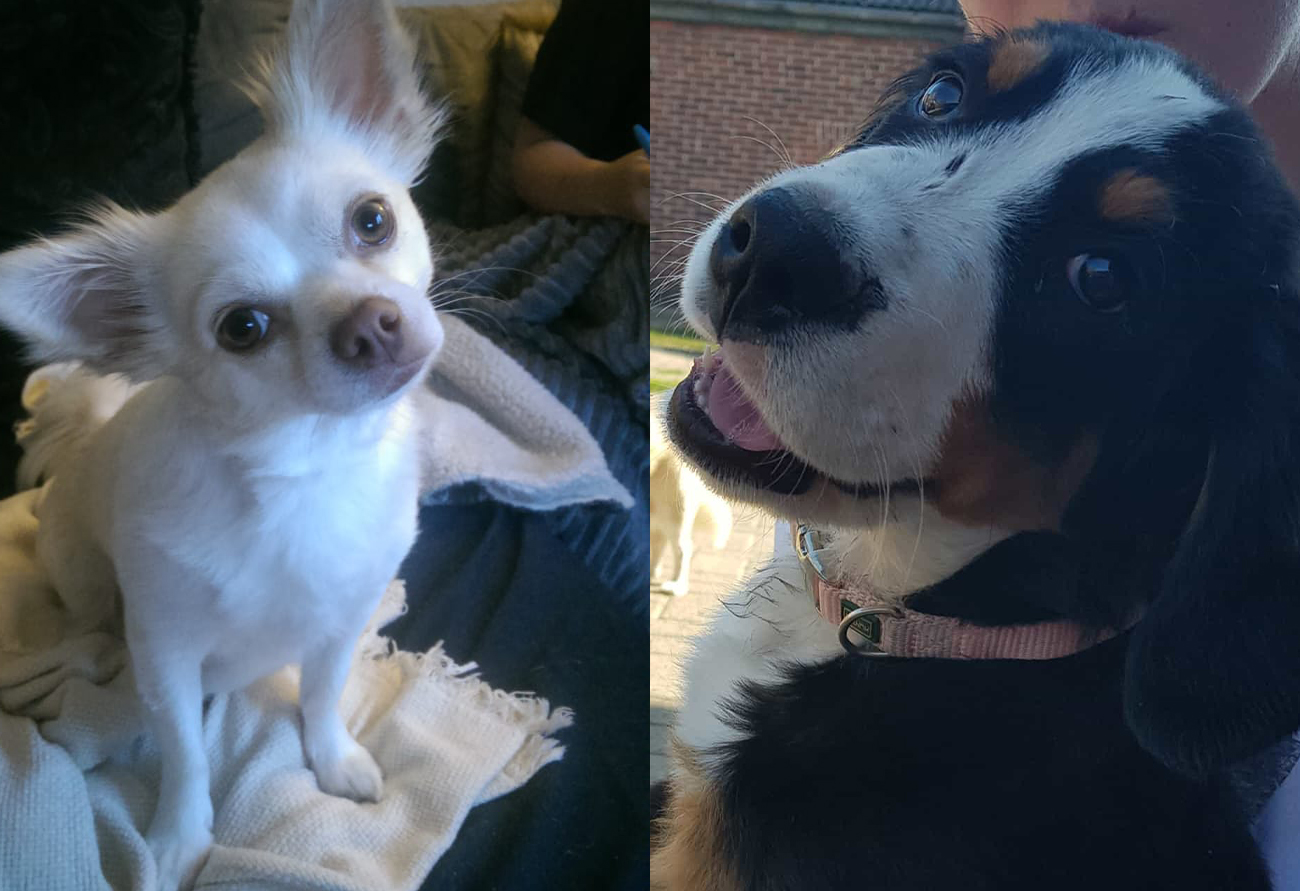 Annika with dogs Amelie and Raya
Dear team of Dr. Berg Pet food,
finally the time has come: Puppy
Raya
has moved in with us. She is
14 weeks old
and a Bernese mountain dog. We are currently swith her to your
URFLEISCH for puppies
. Raya is crazy about the food and even starts to sort out the old food :-).
She now lives with us together with her big sister
Amelie
. I had already written about Amelie. She gets the
URFLEISCH with lamb
from you and still eats it with
great enthusiasm
. (Obviously even more now so that Raya doesn't eat hers.) Her paw problems have gotten much better. Almost no more red to see. The red tears are also slowly getting better. In 2 weeks we are going to the North Sea for a few days. :-)
I'm sure that Raya will also tolerate your dry food well. So far
everything is running without problems
.
On that note I just wanted to
say thank you
again for making such
good dog feed
!
No
more hassle with
diarrhea
. The
fur
of both dogs is
super soft and even shiny
. Without giving her anything extra for it. Whenever Amelie lets strangers touch her, she is always praised for her beautiful fur.
No bad breath
! Her beautiful teeth were praised at her last vet visit.
Never another food!
:-)
Best greetings,
Annika with Amelie and Raya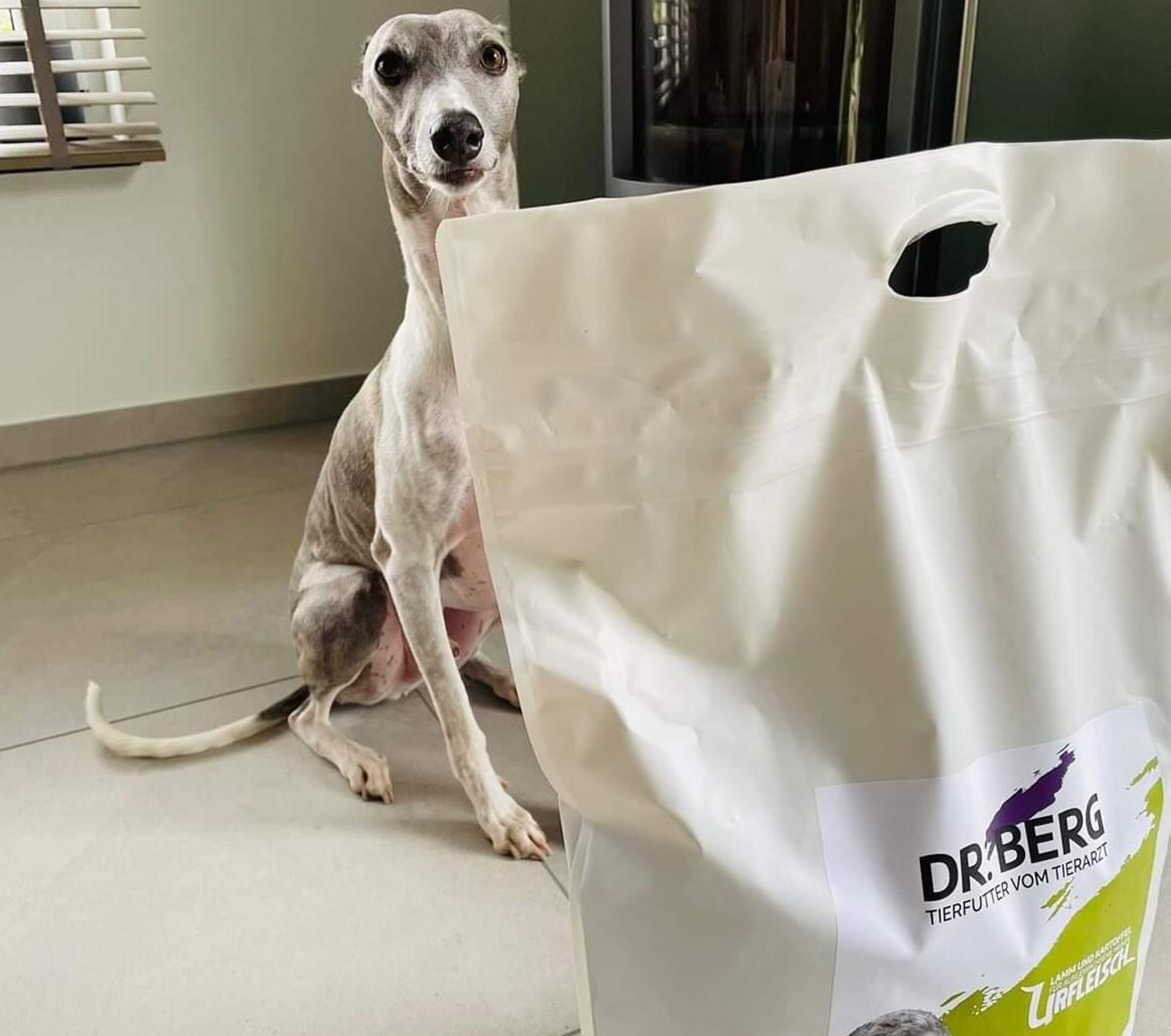 Linda with dog Colin