|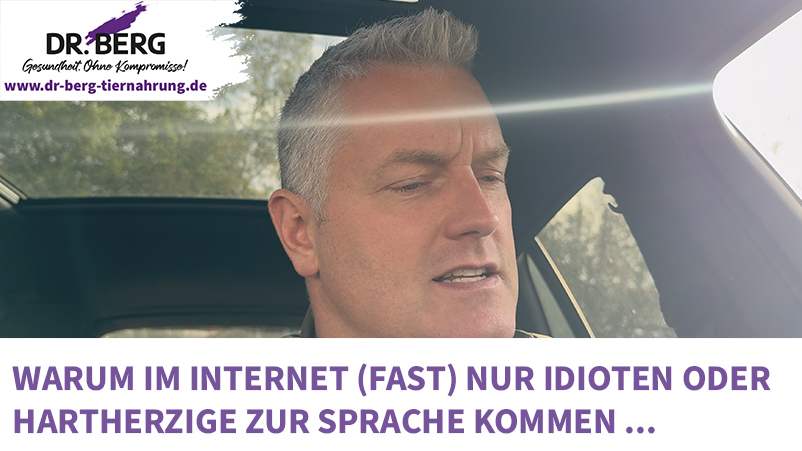 Why (almost) only idiots or hard-hearted people are discussed on the Internet...
12.10.2023
We believe that there is a lot of rubbish being said in the pet food scene on the internet. And not just in this area, but in general: There are things circulating on the WWW that are often not true, confusing and unsettling. So does the Internet lead to a diverse range of ideas or is the dissemination of information on the Internet somehow restricted?
Personal experience with our Dr.-Berg-channel

Anyone who has been following us for a while knows that we've been making these videos here for a while - and we hardly get any hater comments. But we don't take even these few negative comments personally! They don't hurt us and that's one of the reasons why we continue with the videos and our educational work. For us, our channel is all about bringing ideas and information to people who may need them.

Colorful diversity on the WWW?
Is the amount of information, opinions and ideas floating around on the Internet really richer than it was 20 years ago, when only a few people could print an article in a magazine? We don't think so!
Why is that?
We think this is because you are exposed to direct feedback online. And this often includes negative and unqualified feedback - and not everyone can tolerate that! That's why many opinions and good, differentiated ideas aren't even brought up on the Internet because people don't dare to take cover for fear of being immediately attacked.
But who is left then?
Those who are raw and have closed themselves off from the outside world. If you hide behind a wall, it's easier to shout hostility outside - while you can't be hit yourself. And there are a lot of people like that in the pet food scene and that's exactly why discussions in this area often look like this: aggressive and belligerent - because it's just about hurting, but not about an open-ended exchange of opinions and ideas. The internet has something going for it, but to be honest, it's a pretty big pile of rubbish!
Let's find out together
Let's find out together whether we can achieve valuable results and a colorful diversity together instead of engaging in an exchange of blows that does no one any good.