|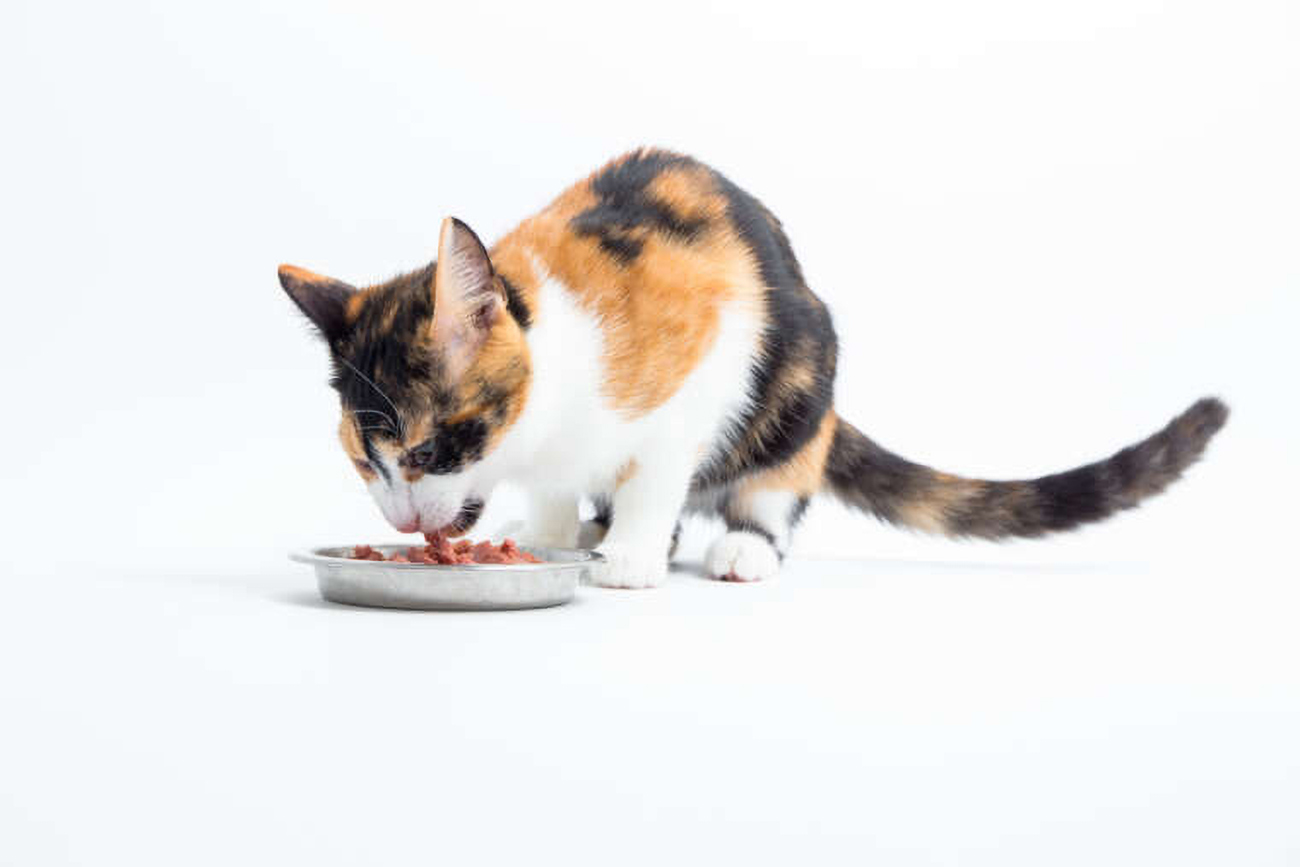 Good cat food. What is it anyway?
23.04.2021
Today, cat owners contact us because they are looking for a good cat food. But what is it anyway? There are many opinions circulating on the internet about it and it is thrown around with terms that often confuse you more than enlighten.
A good cat food covers your needs!
A good cat food is first and foremost a needs-based food that meets the nutritional needs of cats. This means that these include:
proteins, fats, vitamins, minerals and taurine. To see if a cat food contains all the nutrients, it is worth taking a look at the cat food packaging. A good cat food is
as declared complete food
. In addition, vitamins, minerals and taurine must be added as nutritional additives, because vitamins and taurine are broken during production and minerals are sometimes contained in the raw materials in a very fluctuating way. In order for enough of them to be contained in the end product, they must be added.
If you are interested in why additives are important in a good cat food, then feel free to watch
our video
.
In addition, cats are pure carnivores (carnivora) and therefore have a few differences in metabolism compared to the dog, which is an omnivore.
Here the comparison:
CAT

HUND

gains all its energy mainly from protein and fat
glucose can be made from proteins

gains all its energy mainly from carbohydrates

needs a lot of proteins and a lot of fat

needs protein and fat in moderate quantities

can make taurine ourselves

needs arachidonic acid (essential fatty acid in cats)

can produce arachidonic acid itself

can produce vitamin A itself
How do you know if a good cat food meets demand?
It is therefore the top priority with good cat food that it is necessary for the cat to cover the needs. The needs values for cats are known! To distinguish a good cat food for healthy cats from a bad food, you can orient yourself on the following values:
Wet cat food

Dry cat food

protein content

> 7

> 26

fat content

> 4

> 9

Fiber

< 1

< 5

raw ash

> 3

< 10

addition of vitamins,

mineral substances

and taurine

yes

yes
Not sometimes to think: need versus quality
So it doesn't even matter so much of which raw materials the feed is made, but which nutrients are in it. It is worth thinking about this important distinction briefly:
Raw materials are, for example, the chicken meat or salmon meat, so all the ingredients with which many manufacturers like to advertise, because they look so good and sound so good and you should therefore think: "Wow, so many good things in it, that must be a good food." And that's exactly why you are shown all the pictures or told: "Our food is with alpine chicken, that's what makes it so special.".
Nutrients are the basic substances that are in the raw materials – or not (e.g. proteins, fats, the various minerals, etc.). Your cat has a need for these nutrients, not raw materials. This is important that you make this clear again! For example, if a cat food contains too little taurin, then your cat will get sick from this nutrition, regardless of whether only the finest fish fillet is in it and meat from the happiest chickens. Of course, the same applies to dogs.
The nutrients are so important is also the reason why some feeds, which consist of rather inferior components, still perform well in feed tests: because there almost exclusively the nutrient contents are checked. (Unfortunately, such tests do not say anything about the fact that the overall quality of the food is not correct.)

Why is the quality of the raw materials still important
The quality of the raw materials in cat food, i.e. the meat and other ingredients used, is of course also important. But it is not so easy to say what quality really is (that's why, for example, Stiftung Warentest tests almost exclusively the nutrients and does not evaluate the quality!). However, one can certainly agree that a good food should receive as many nutrients as possible from the natural raw materials. And this is only possible with nutrient-rich, high-quality raw materials, such as meat and vegetables.
What does it mean for feeding cats?
Cats are pure carnivores. They mainly need proteins and fats. Cats usually gain their energy from these basic building blocks. It is quite different with dogs: they get their energy mainly from carbohydrates!
For this reason, cats do not need no carbohydrates in their food, and are able to digest them. Good wet food for healthy cats therefore does not contain carbohydrates (e.g. cereals, potatoes, rice, etc.). Good dry food for cats contains only as much carbohydrates as is needed for production.
How do I know if the quality of a cat food is good?
Attention: Quality does not mean that a few beautiful pictures are depicted on the label or that pseudo features are written on it! Also beware of "modern" manufacturers who lack the competence to assess the most important criterion of a good feed – the nutrient supply. They can mix together a food whose recipe they have not developed and cannot judge, and then focus on telling you a great story that sounds good. Remains skeptical of such "marketing manufacturers".
In the composition list the label says what the cat food is made of. The manufacturer can make this declaration in collective terms (e.g. meat and animal by-products) or he can list the raw materials actually used in descending order (semi-open declaration).
In principle, it makes sense if you understand what's in your food. With cat food with ingredients that you do not know, you should be skeptical.
Our FELIKATESSEN
Our
FELIKATESSEN
can rightly be described as good cat food. They are
covering needs, made of high-quality raw materials
and: the
acceptance
in cats is
high
! Dr. Berg Pet Food has two varieties
dry food
and two varieties
wet food
for healthy cats. Of course, there are also
treats
(love-chicken breast and love-chicken stomach), wet food for sick cats, for example our
pro-RENAL
for
kidney disease
cats or our
pro-BLEND-DIET
for cats with
gastrointestinal problems
.
FELIKATESSEN dry food for healthy cats
FELIKATESSEN Dry food

chicken & salmon

FELIKATESSEN Dry food

rabbit & beef

Complete food?

age group?
protein sources?
fat sources?

foil fat 13 %
salmon oil 1 %

foil fat 13 %
salmon oil 1 %

carbohydrate source?
Other ingredients?
The added salmon oil contains a high proportion of unsaturated omega-3 fatty acids. These have an anti-inflammatory and immunomodulating effect, i.e. positive effect on the immune system.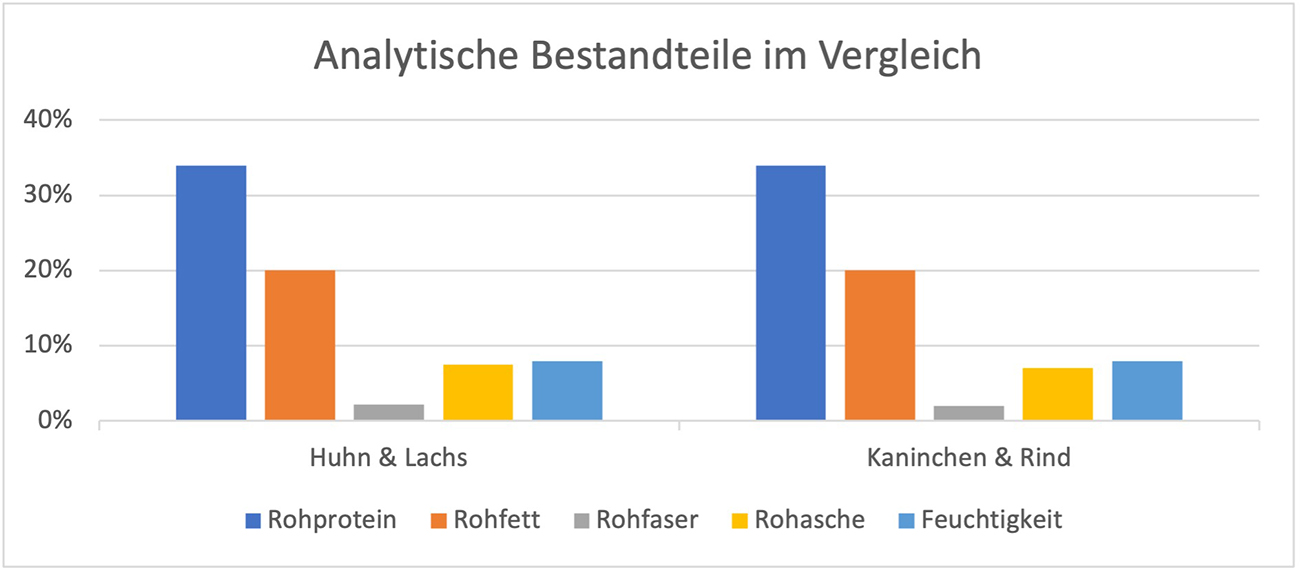 Due to the slim recipe, the two dry foods are also ideally suited for cats with intolerances or sensitive cats!
Here 3 important facts about dry food, which a cat owner should consider:
dry food has less water than wet food
dry food has more calories than wet food
dry food can be as high-quality as wet food
FELIKATESSEN wet food for healthy cats
FELIKATESSEN wet food

chicken & salmon

FELIKATESSEN wet food

turkey & duck

Complete food?
age group?
protein sources?
fat source?
Both wet food for healthy cats convince with a high meat content of 75 % and do not contain a carbohydrate source.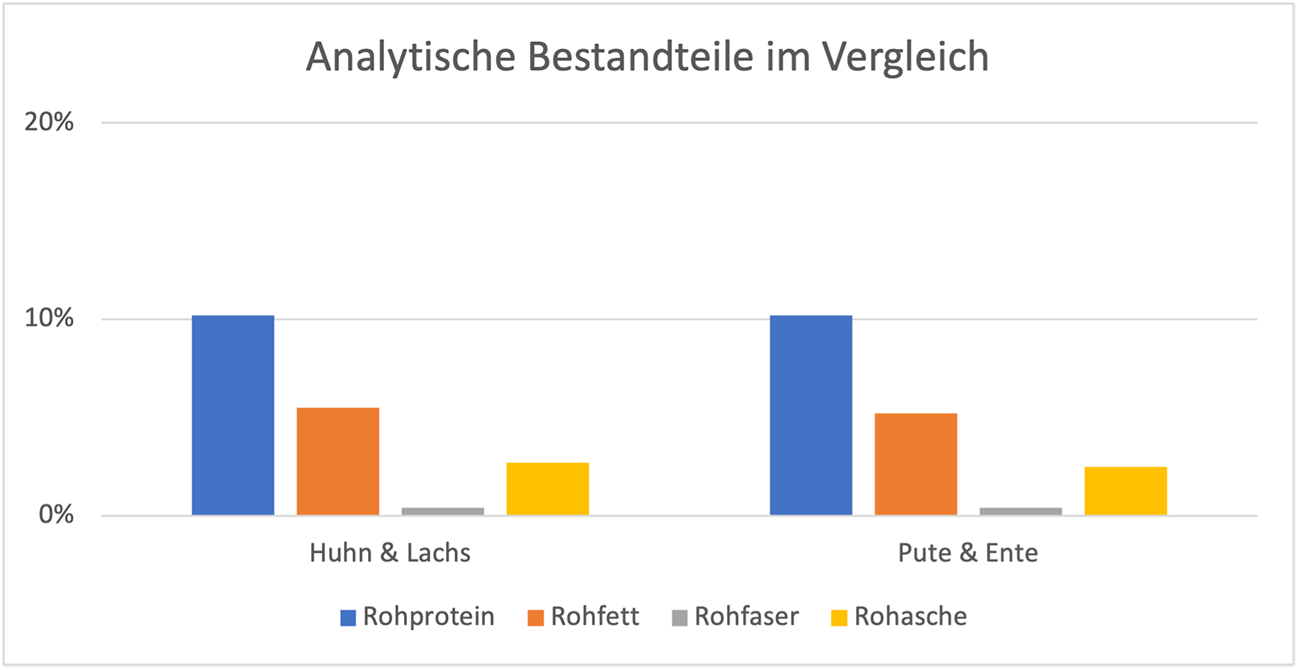 The same applies to our wet foods for healthy cats: They contain high quality and highly digestible protein sources and have a high acceptance! Almost all cats like to eat our FEILIKATESSEN!
By the way:
wet food
contains – as the name suggests –
a lot of moisture
. Therefore, 100 g of dry food also contains
3 x more energy and nutrients
than 100 g of wet food. You can see why this is the case here in our video:
"Water content of dry and wet food"
How can you compare good dry food with good wet food?
It is important to know that the analytical components (protein content, fat content, etc.) of dry and wet food cannot be compared 1:1. The reason is that dry food and wet food have very different moisture contents.
In order to be able to compare the values, you have to standardize them, i.e. convert them to the
dry substance
. To do this, multiply the analysis value of the wet food by a factor of 4. 10 % is added to the value of the dry food. Dr. Gregor Berg explains exactly how this works here:
"How to compare the analytical components of wet and dry food?"
Why good cat food can be found at Dr. Berg Pet Food
Why good cat food can be found with us is easy to answer: we are veterinarians and know what needs to go into a cat food so that it is needs-based and from the quality is as it should be. Why do veterinarians know this? Because there are the subjects of animal nutrition and feed science during the studies, food hygiene and slaughter filled large parts of the study and we veterinarians are therefore trained all around. In addition, we are familiar with the body of dog and cat and know what they need.
You have any further questions about our
cat food
? Feel free to contact us at any time, by phone at +49 9971 898 4213 or by e-mail at info@dr-berg-tiernahrung.de!
Your Veterinarian Dr. Stefanie Berg